Bearkat77's Awards For You
These are awards you can apply for. You will notice they are in grey-scale with the word "SAMPLE" on them. That means these are only samples of the award.
The Nice Site Award is for a generally nice site. It is for those sites which are nice places to visit, and offer a nice variety of pix, sound files, or just observations. It is for any Beatle site.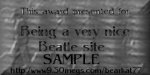 ---
---
The Excellent Design Award is for those sites which are nicely arranged with ease of navigation, above average html, and are not run-of-the-mill picture pages or blah-looking links pages. This award may be given to other sites besides Beatle-related ones.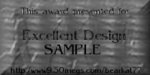 ---
---
The Great Beatle Links award is for those who offer a variety of Beatle links - and the links are mostly interesting links. Please Note: to actually get this award, your links must all be current and working. No broken links, please.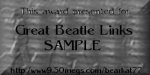 ---
---
Did you make your own graphics for your site? Or is it at least a tastefully arranged site using (and crediting) others hard work? Then you may want to apply for The Nice Graphics award.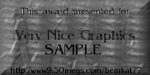 ---
---
This award you cannot apply for...we only offer it to those sites we feel are above and beyond the ordinary in every aspect of their site: graphics, arrangement, ease of navigation, up-to-date maintenance, offerings of links or info, and these sites must have a personal nature. If we find ourselves going back to your site again and again, you can be sure you will one day receive the "Gets Back!" award. To see the most recent recipients of this award, go
here
.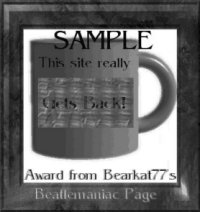 ---
---
To apply for one of the other awards, just
email
us with your url, and which award you'd like to apply for. We'll be back in touch in about a week or so (*grin*).
The Albums | The Songs | The EPs | The Records
Home | Links | Apply For Our Awards | MessageFest | LogBook
>